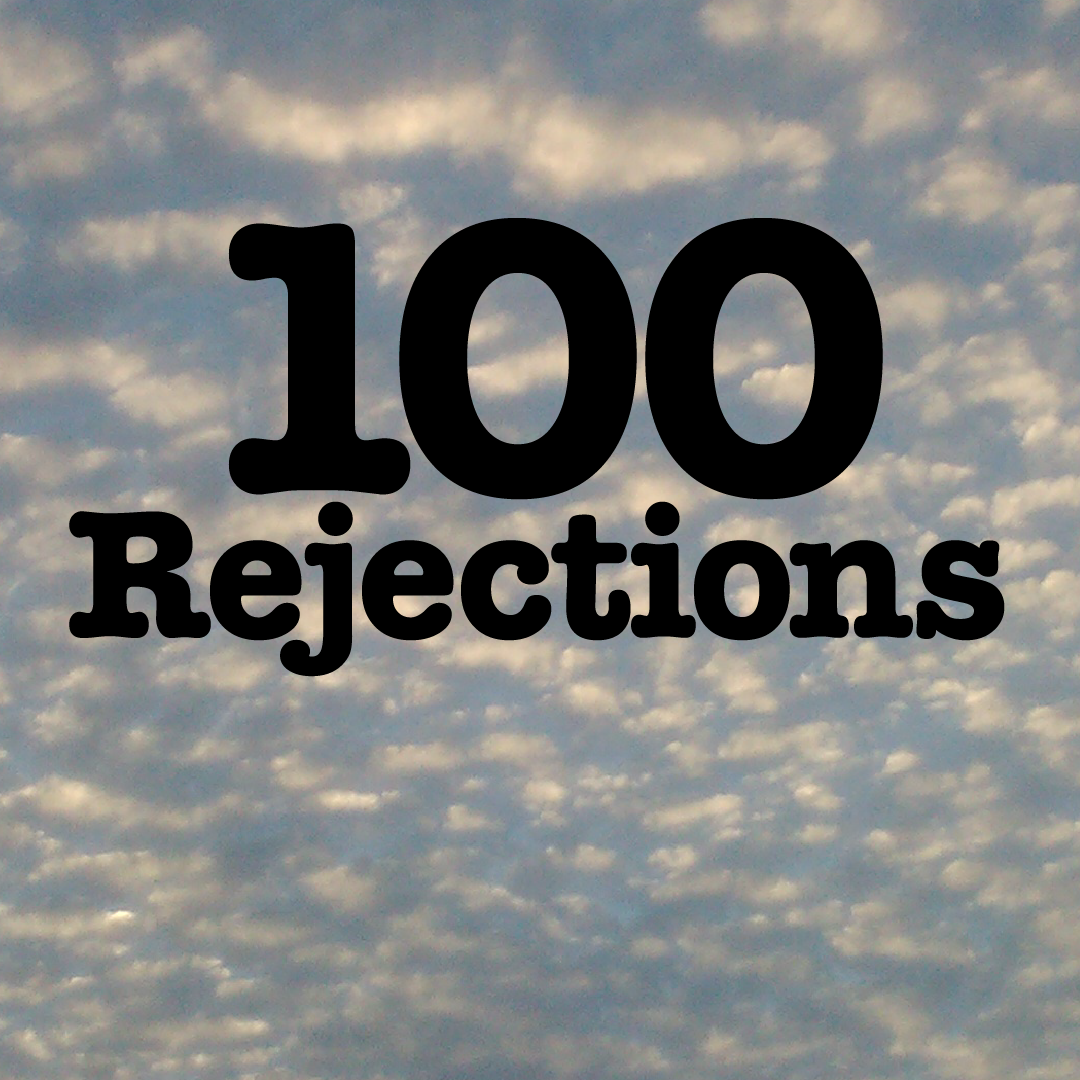 One Hundred Rejections
I have given myself a goal of one hundred rejections. Initially it blew my mind when my artist friend Kymba Nijuck told me of her approach. This inspired me to completely steal her idea for myself. I'm going to attempt to get 100 rejections for opportunities: grants, shows, events, screenings, or anything else that crosses my path.
Why One Hundred Rejections?
That seems silly! Who wants to be rejected. Well honestly, I don't. But what a rejection letter stands for is that I put myself out there. I guarantee as I collect 100 rejections, I will have plenty of acceptances and opportunities. It puts the control in my hands so to speak and switches the power structure in my mind.
I won't share all the rejections, but this is the one that sort of inspired me stealing Kymba's idea. Look at how lovely…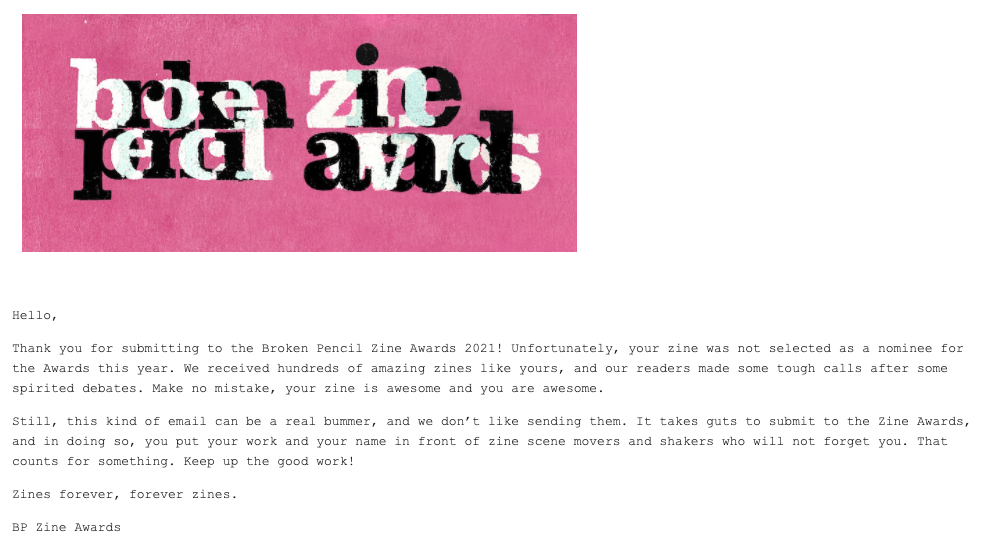 This is probably the nicest rejection letter I have ever read.
Make no mistake, your zine is awesome and you are awesome.
Submit to the Broken Pencil Zine Awards
They're so nice, I highly recommend you submit to the Broken Pencil Zine Awards. Yes that means this rejection is so old that it's time to submit again:
Since its inception in 2017, the Zine Awards' goal has been to honour outstanding work coming out of the ever-expanding zine universe, and to acknowledge the talent and hard work of emerging, established and experimental self-publishers for their contributions to zine culture. We give awards to creators for recent publications in eight categories. One of these winners stands to win the overall prize of Zine of the Year.
The submission period ends July 1. Submit here: https://brokenpencil.com/zine-awards/about-the-zine-awards/
Visualizing My Goal
Anything worth measuring is worth a nice visualization or chart. I thought I would take the time to delve into Sankey charts. I've seen these charts being used for job seekers to track their application status until they get hired, so I thought I would use similar methodology. Here's a clear example of what I'm going to create.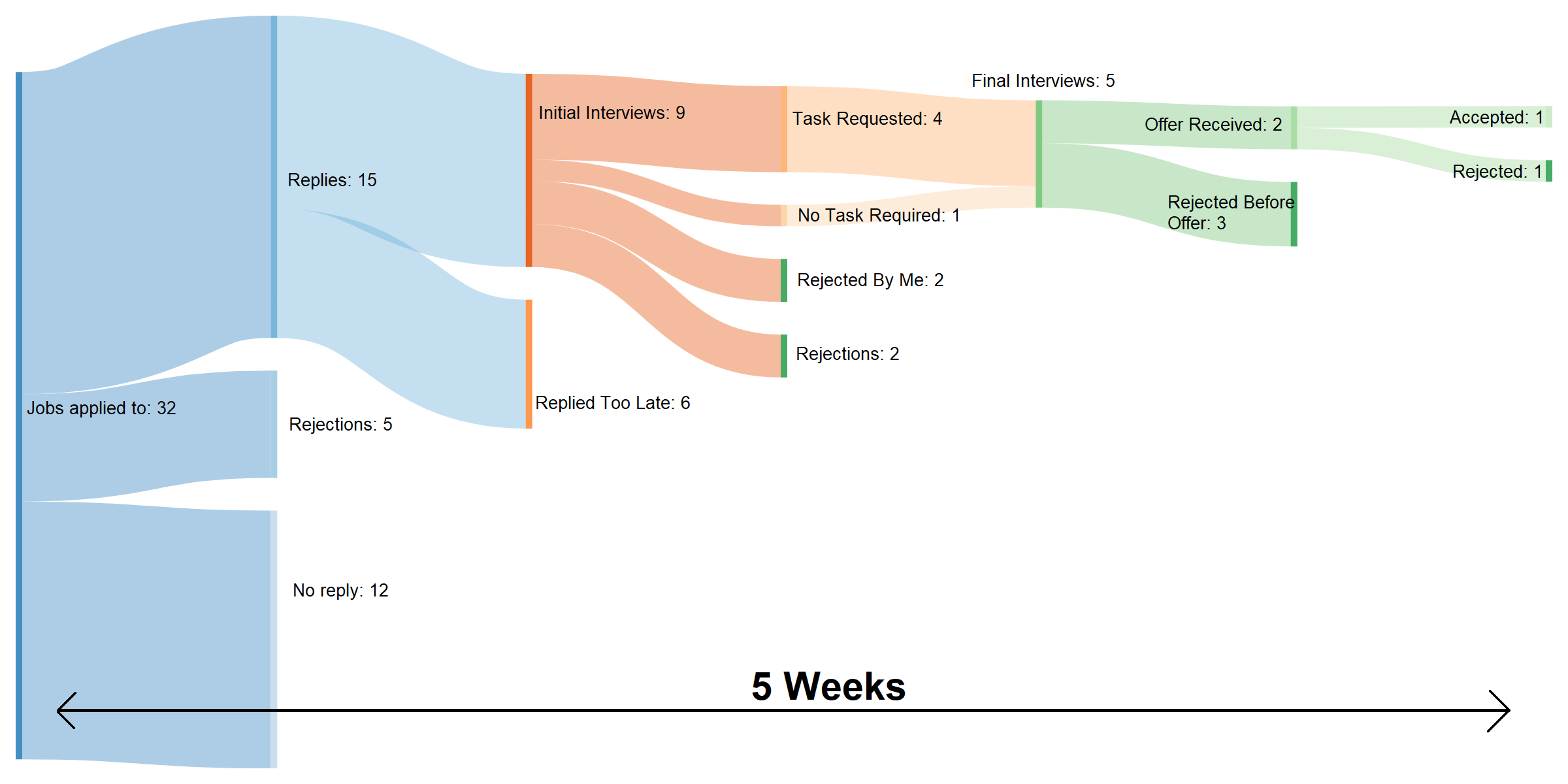 The data
Reading about wide and narrow variables helped me understand what data I need to collect and I have a nice spreadsheet started.
Mine is going to be nice and simple. Is the show juried or not? Only juried shows really matter for rejections. Out of those, I'm tracking if I got a yes, a no, or didn't hear back.
How many applications will it take?
Well at this point, it's week 23, I need about 3.5 rejections a week to hit 100 by the end of the year. I didn't really start anywhere specific, but my spreadsheet has three entries on it today, so I'm going to start there. It's week 23, so I will start by applying to 7 – 10 opportunities a week. I'll look monthly at the numbers and update the Sanky chart so y'all can follow along.
The good news
Out of my three on the list, one is a no – but such a nice one from Broken Pencil – one is an enthusiastic yes, and one I haven't heard back from. Stay tuned for more show announcements and updates on my 100 rejections.